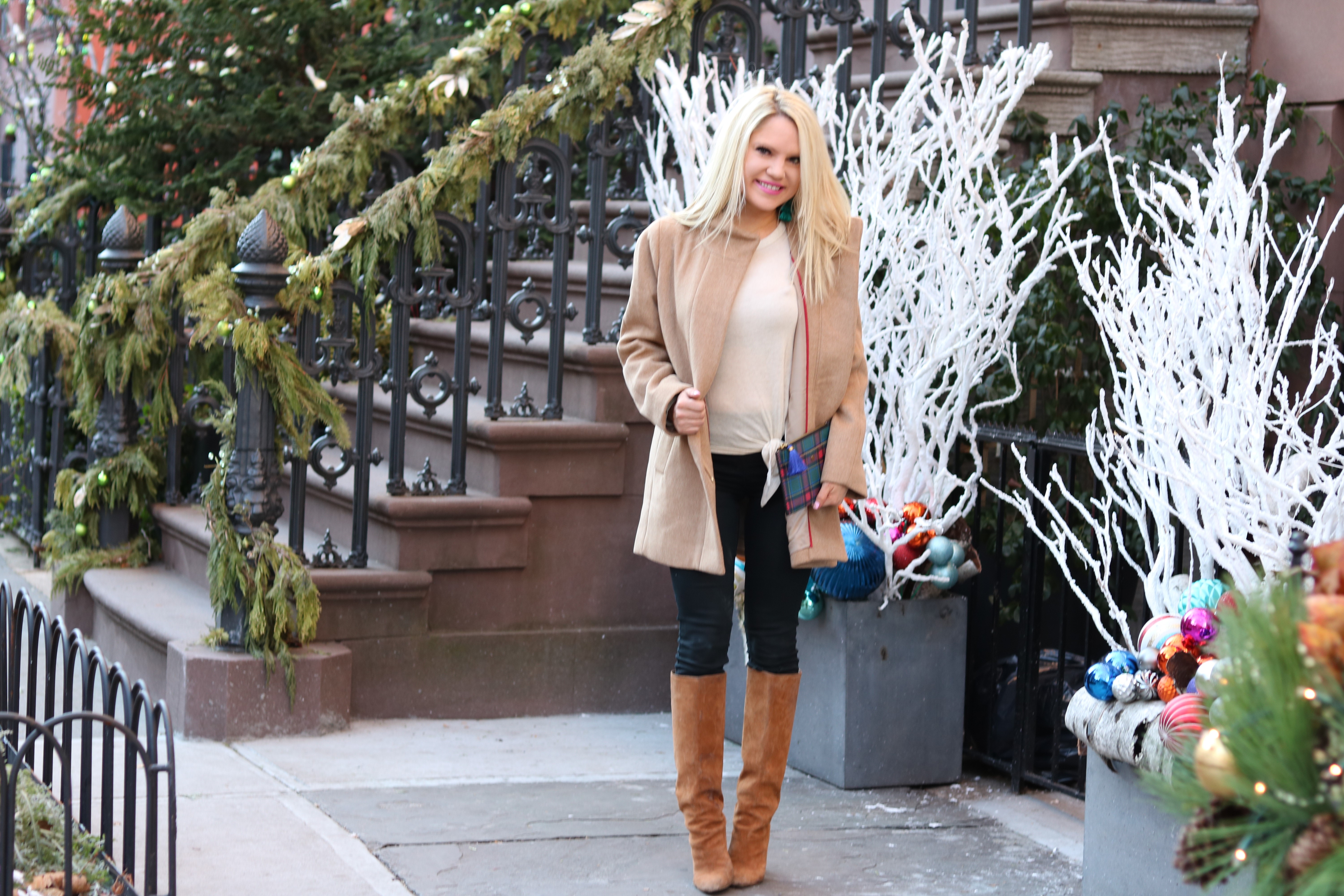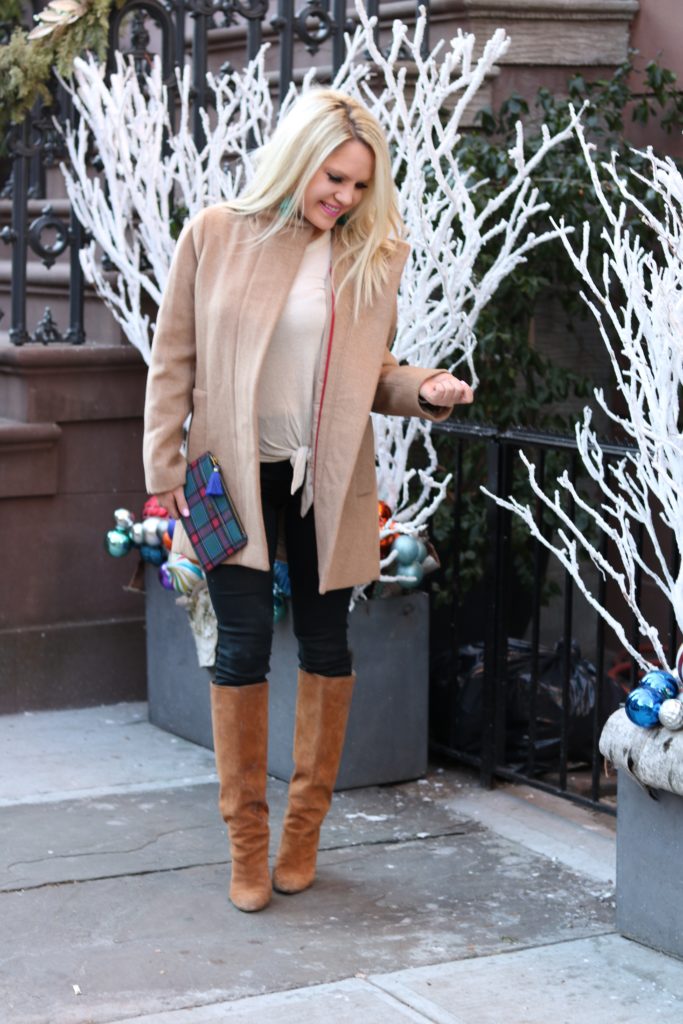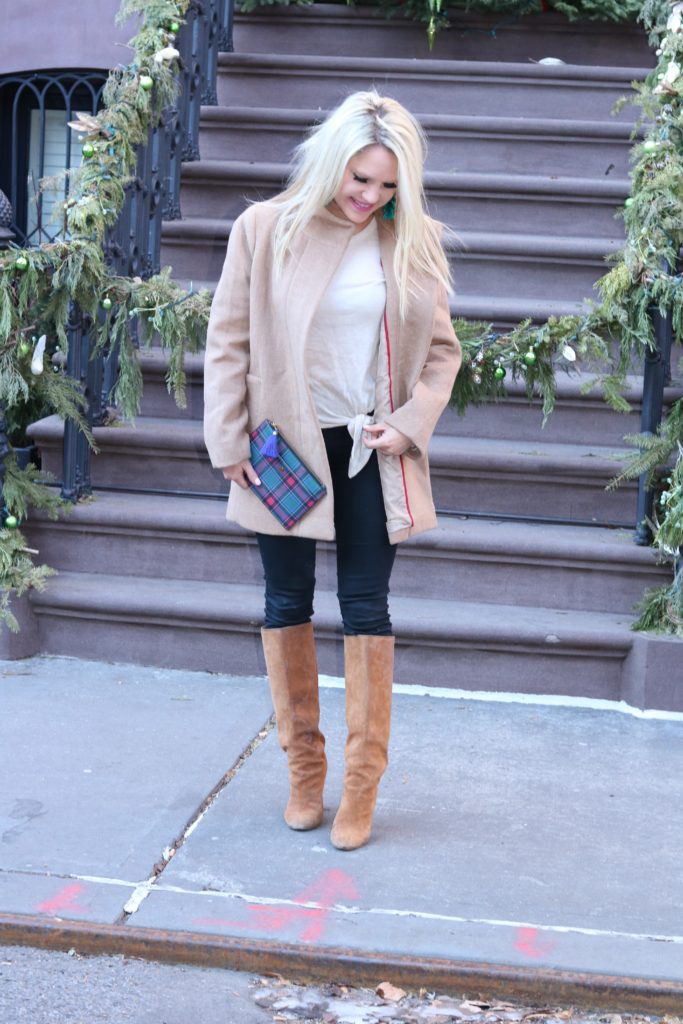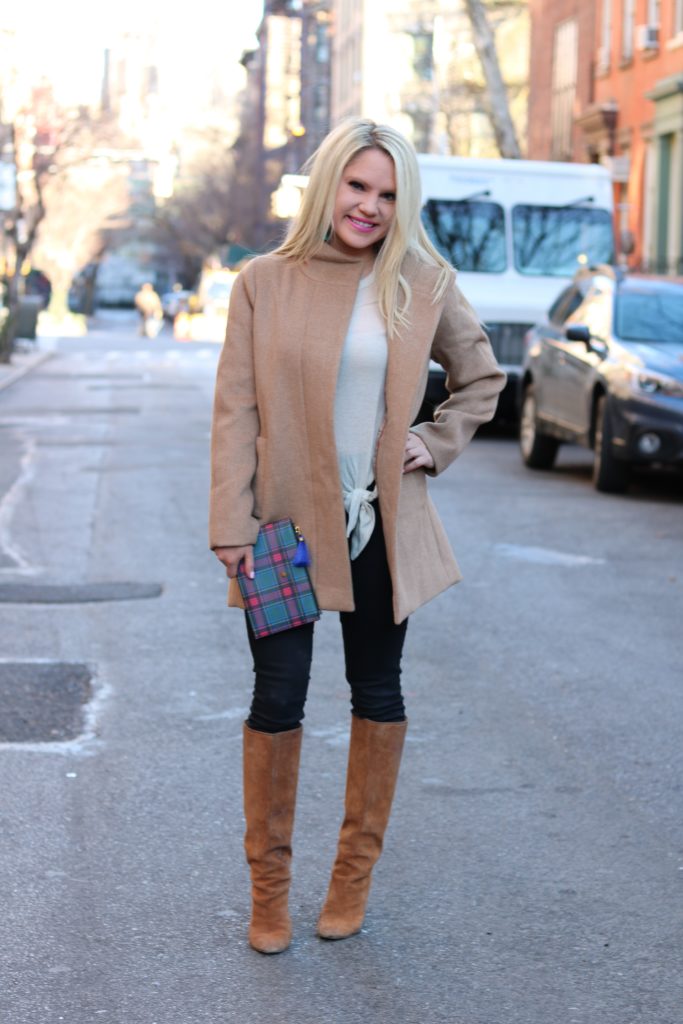 SHOP THE POST
COAT J.Crew | TOP Madewell | EARRINGS Bauble Bar | LEGGINGS Plush | BAG J.Crew | BOOTS Club Monaco
I am sort of in a pickle. Going to do research today to see if I can get out of going to school. I DON'T want you to think that I don't value school, but, I've already taken it.
Before I ever started blogging I worked in real estate. I think it is actually in my blood as my Grandmother in Newport Beach took over the family when my grandfather messed up an electrical company inheritance and started selling at a time when women didn't work as much. My first real estate license was obtained when I was 19 in college at ASU. I started selling and was doing so well I put all my classes on Tuesdays and Thursdays so I could work the rest of the days. I even took extra courses and passed my GRI – Graduate of the Real Estate Institute which I later realized is only really recognized among other realtors, not clients. But still, people in the real estate community appreciate it and definitely gave me more credibility.
I then moved to Newport Beach and got my real estate license in California. I worked in commercial real estate and then sold new construction homes for a home builder. My partner and I actually sold 80 homes in a year, it was crazy busy with 80 escrows they took 8 months to build. I learned a lot about design, escrow, construction, mortgage, etc. Everything that was important to the buyer was important to me. I even started a newsletter for the out-of-state buyers so they could get updates on their homes. Buyers saw me as the face of the company (as they had no clue where the corporate office was), so they'd come to me with all their questions. One buyer asked me once, 'is my home that is under construction okay since there was an earthquake yesterday?' And I'd said 'yes… (with a smile) this was not the first earthquake in California and it won't be the last. And your home is being built with post-retention slabs so you have nothing to worry about.'
Here in New York I called the Department of Real Estate and they told me I could just take the test because I have my license in two other states. So I did on 12/27/17 and passed. Now I am being told that I need to turn in my 75 hours of schooling. How backwards is this? I didn't go to school in New York. So now I need to either get a waiver for schooling from the state of Arizona and/or California or take 75 hours of real estate school for a test I already passed.
I have passed 3 department of real estate tests now in 3 different states. Each state is a little different and yes, New York is kind of it's own animal, but they were all very similar. The topics are important yes, but I feel like so rare, clients I may never have. For example, how likely is it that I'll have a client that has their home overcome by the government for public use (to build a freeway, park, etc.) which is the definition basically for eminent domain. Or lead-based paint, yes homes built prior to 1978 the paint may be toxic, but I don't think my clients will be licking those walls. The questions are designed to protect clients, great, but what the tests don't do is teach you how to sell real estate, how to get clients, how to read contracts.
If I was a test writer or if any three of these states happen to read this, I think the test questions should be more open ended. Like.. what will set you apart from getting this listing over agent A or B? Or what would you do if you represented the seller and the buyer canceled the contract within the 17 day contingency period and didn't state a reason for canceling? Open ended questions like that I think would be more relative to practicing real estate.
Ugh! So I might be going to school for 75 hours. Will keep you posted!
Here is an update!