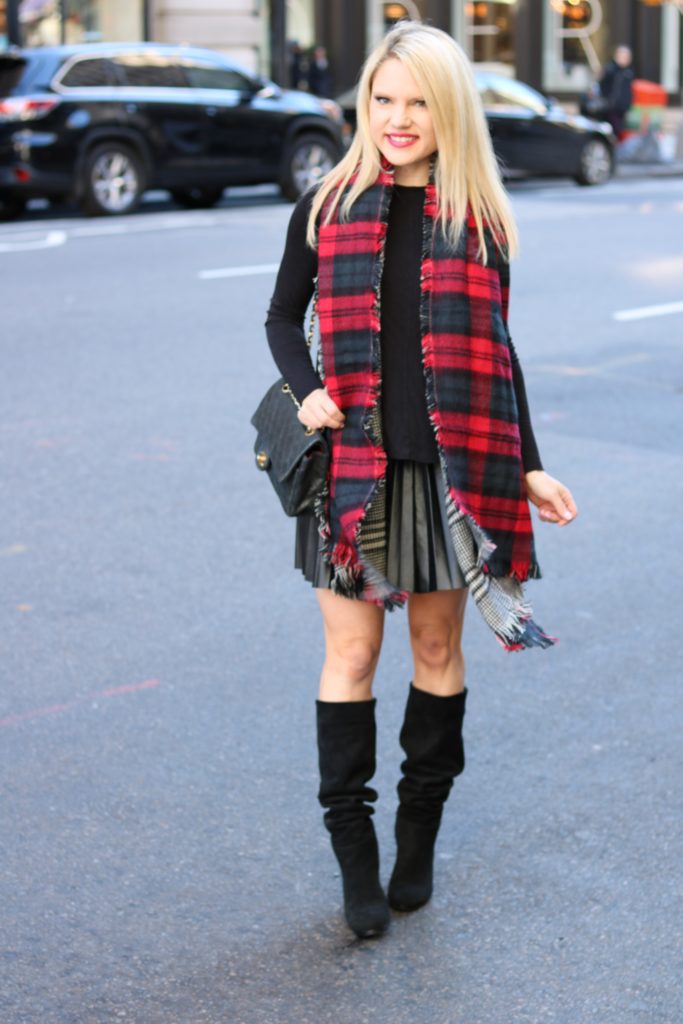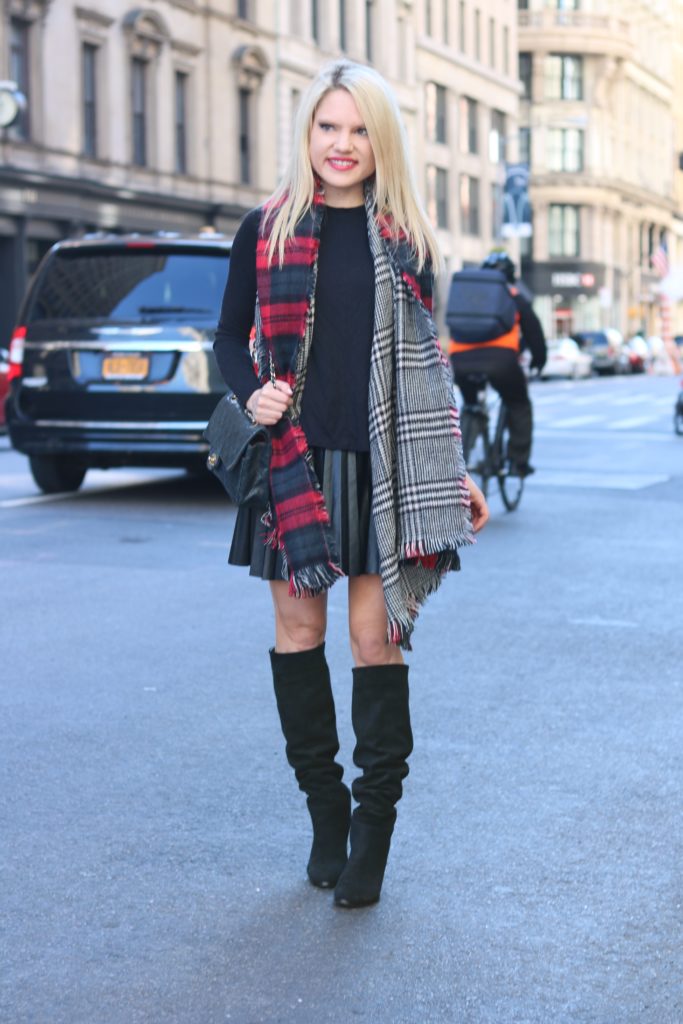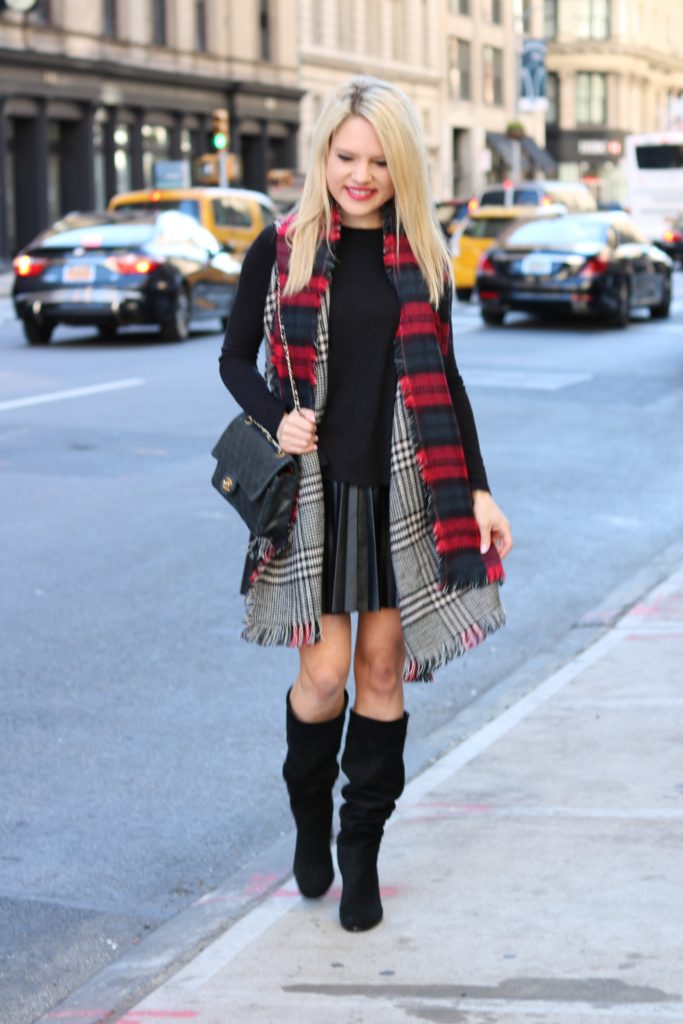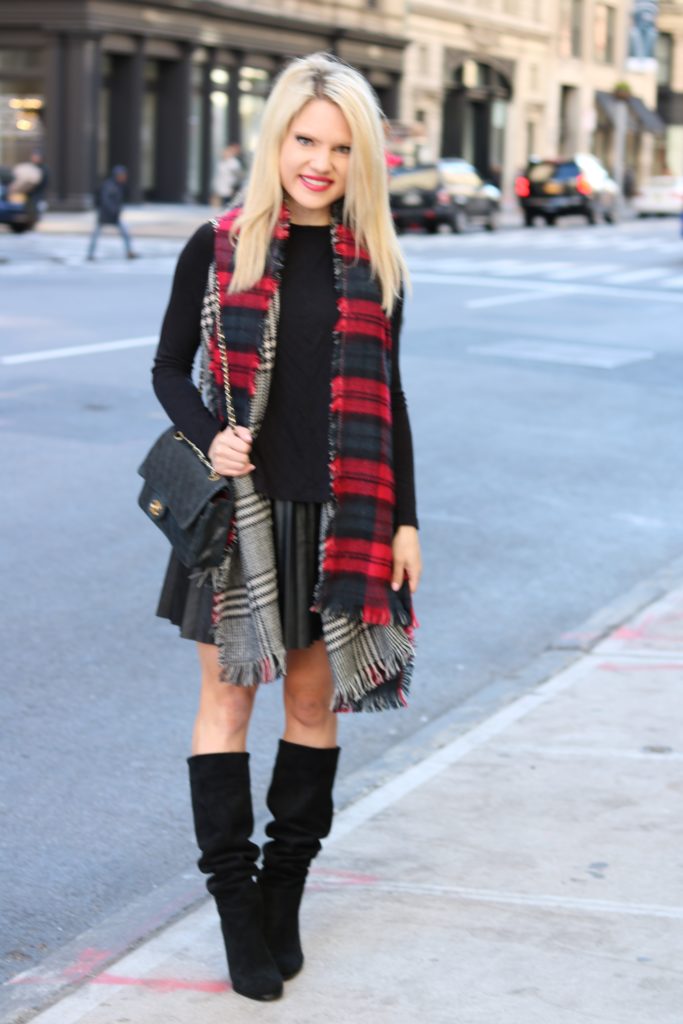 SCARF BP. | TOP ASOS | REVERSIBLE SKIRT ASOS | BOOTS Steve Madden | BAG Chanel | PHOTOGRAPHER Vic Cas
Today I'm bundled in my favorite classic patterned reversible scarf. It's a timeless piece and I plan on wearing season after season. I like that you can see both sides of the reversible scarf when you wear it. My pleated skirt I've also worn a lot this season. It goes with everything and adds character to an outfit. If you don't already shop at ASOS, you should definitely give them a try. They have a mix of great staple pieces to fun dresses and accessories – all at great prices. Their shipping times tend to be a bit slower so it's not great if you need something right away. But overall I love shopping there online if I plan ahead.
I am so excited for the snow storm tomorrow, is that weird? I just love the snow and crazy storms! I was here last year for the big one and I remember asking my girlfriend if brunch was still on for her hubby's birthday, and she said yes. I was surprised but happy to go and support them. There were about 20 of us and we watched the snow fall as we brunched. By the time brunch ended almost 3 hours later, the streets were vacant. No cars were on the road and the snow speed picked up. It looked like a ghost town. I had never seen New York like that. I took pictures on the way home and they really are unbelievable. I then had to walk home because there were no cabs or subways running. It continued to snow overnight. At the time I lived in Chelsea and was lucky to not have lost power. The next day it was so beautiful in the city, kids playing in Central Park and people making snow angels in the streets. After I finish writing this I'm going to go stock up on groceries and wine in case the power goes out. After that I plan on being indoors until the storm ends. And hopefully have some play time in the snow tomorrow!