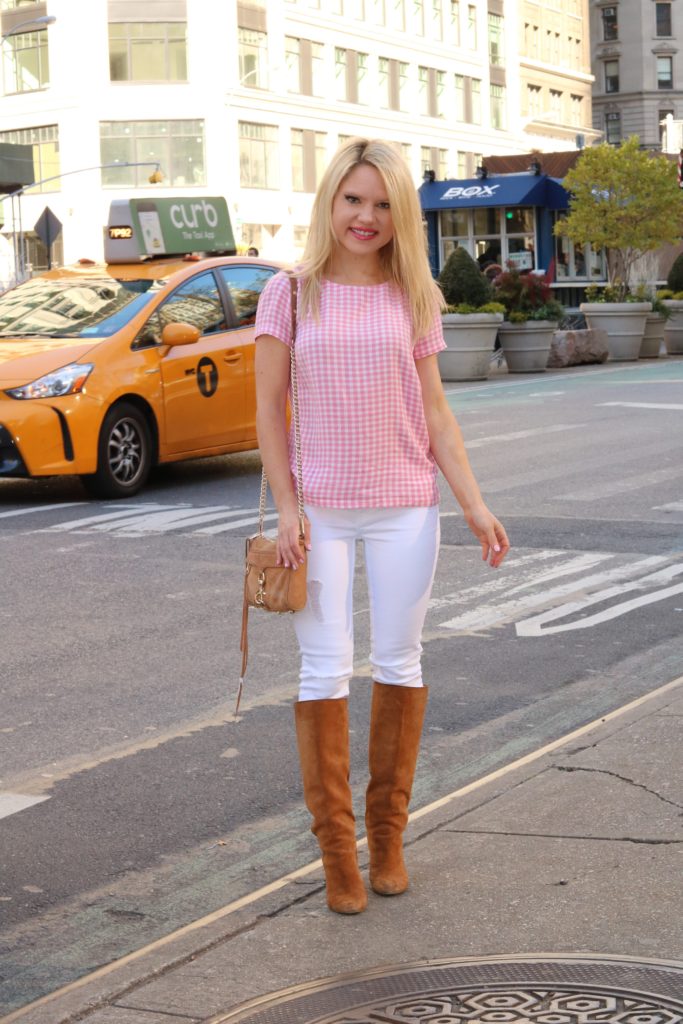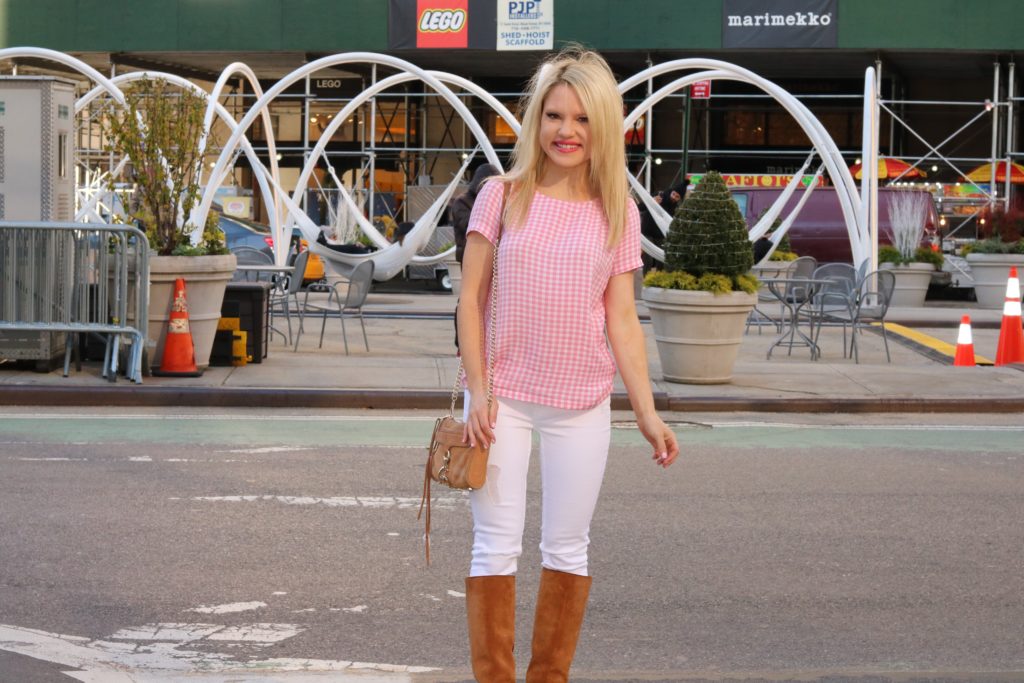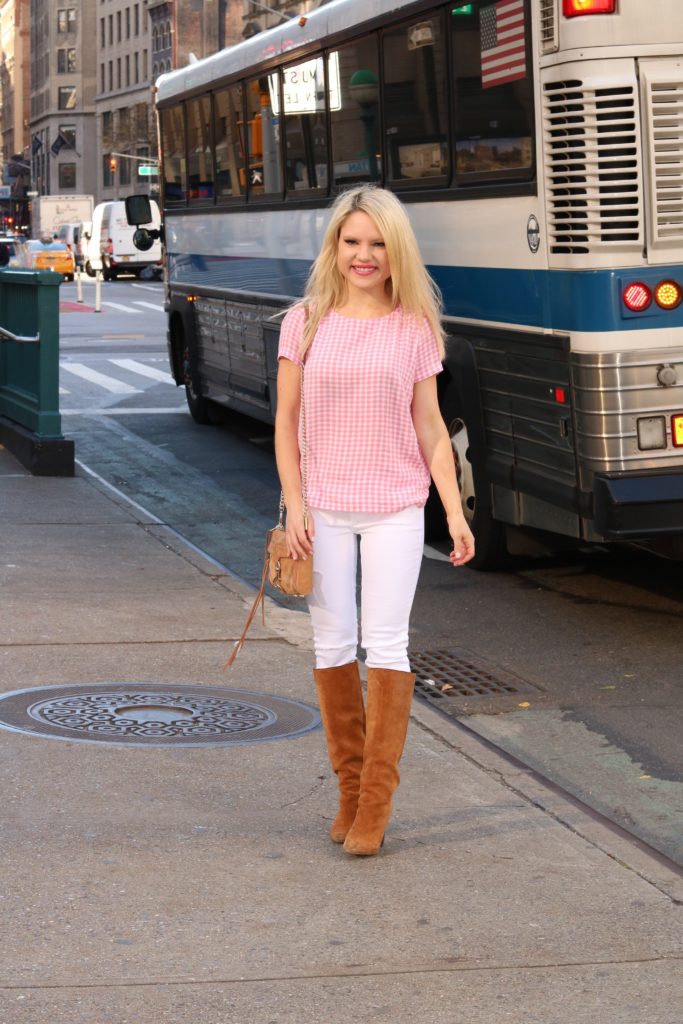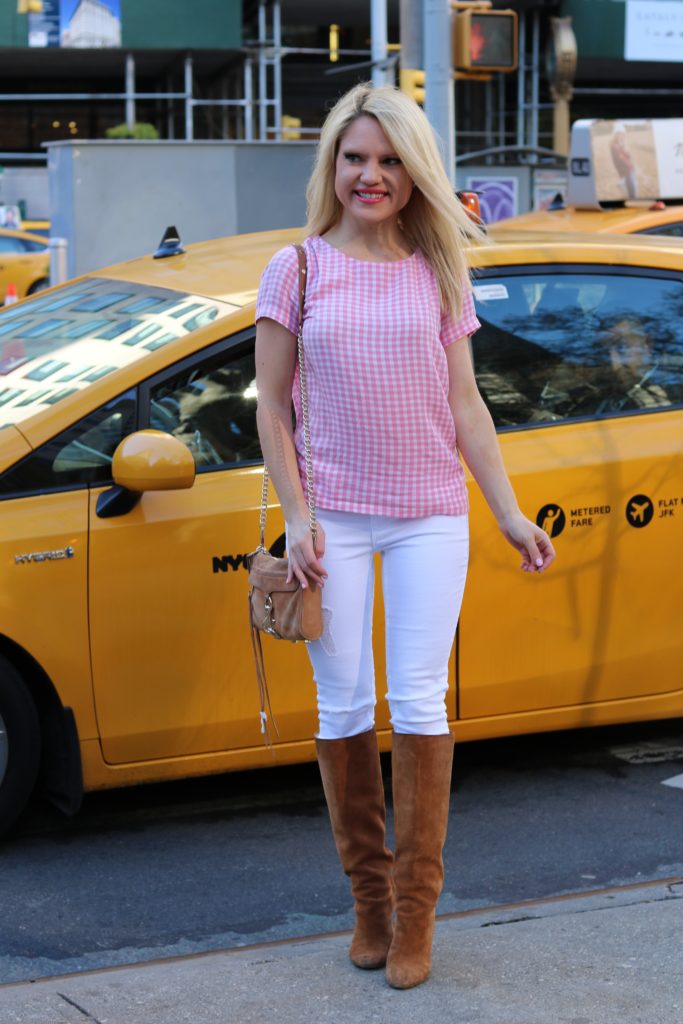 GINGHAM TOP Jack Wills | DENIM J Brand | BOOTS Club Monaco (on sale!) | BAG Rebecca Minkoff
If you're looking for something fresh for your summer wardrobe, you'll be pleased to know that gingham was a major summer style trend on the runways. Everyone loves gingham and it is super in for summer. And with so many cute styles out there, you won't have trouble finding one you love. I linked a few of my favorites below. My gingham top is from last season, but I really love this designer – seriously eyeing this top too!
Another summer style trend you'll want to add to your closet this summer is white denim. I actually wear white and white denim year round (check out this post), but everyone definitely needs it for summer. I love this pair because I love the fit and ripped denim in general. I have always loved Rebecca Minkoff bags, and I wear this suede one all the time. I don't know if you've noticed but I don't wear tote bags that often. Being in New York and having a large tote bag is tempting to fill with stuff I don't actually need that day – which can be heavy! So running around th ecity I usually wear cross body bags or clutches at night.
This weekend I'm heading to Palm Springs for Memorial Day! If you know of any great places I need to check out, please add them in the comments. I grew up going to Palm Desert as my grandparents always had a house there. They would stay for a month at a time and my sister and I would love visiting them! I love basking in the sun by the pool, playing golf, tennis and that tram ride! Have you guys ever done it? It goes up a mountain and the temperature drops drastically at the top where there are amazing hiking trails. I haven't been out west in awhile so I'm excited to come back to one of my childhood places!