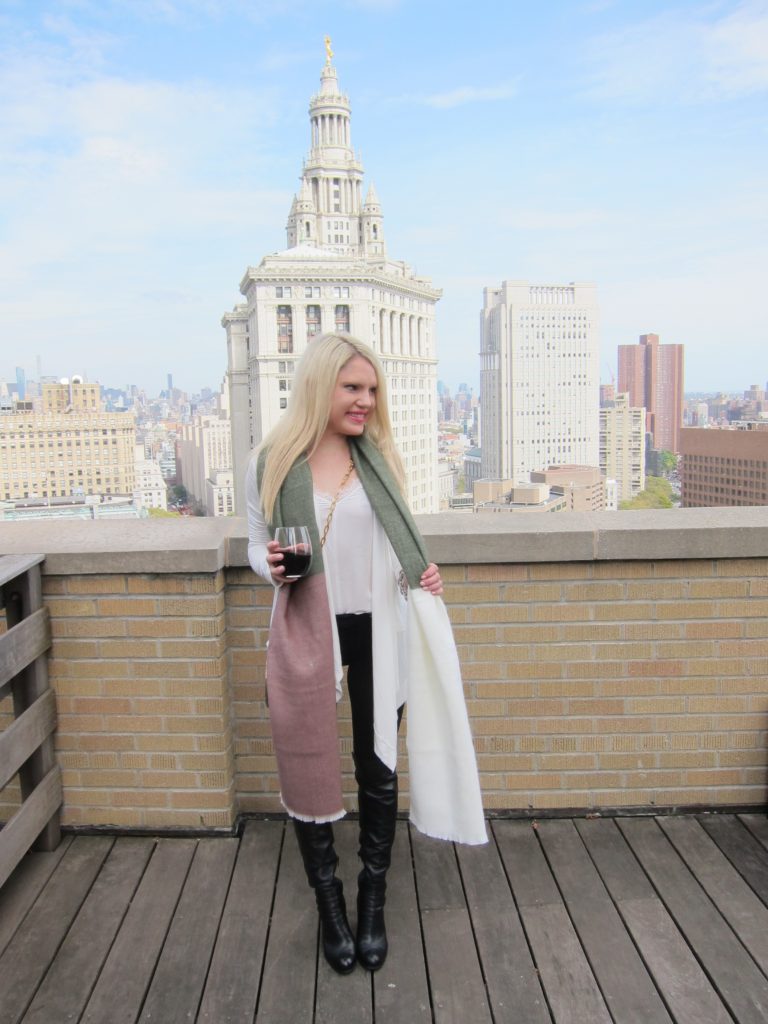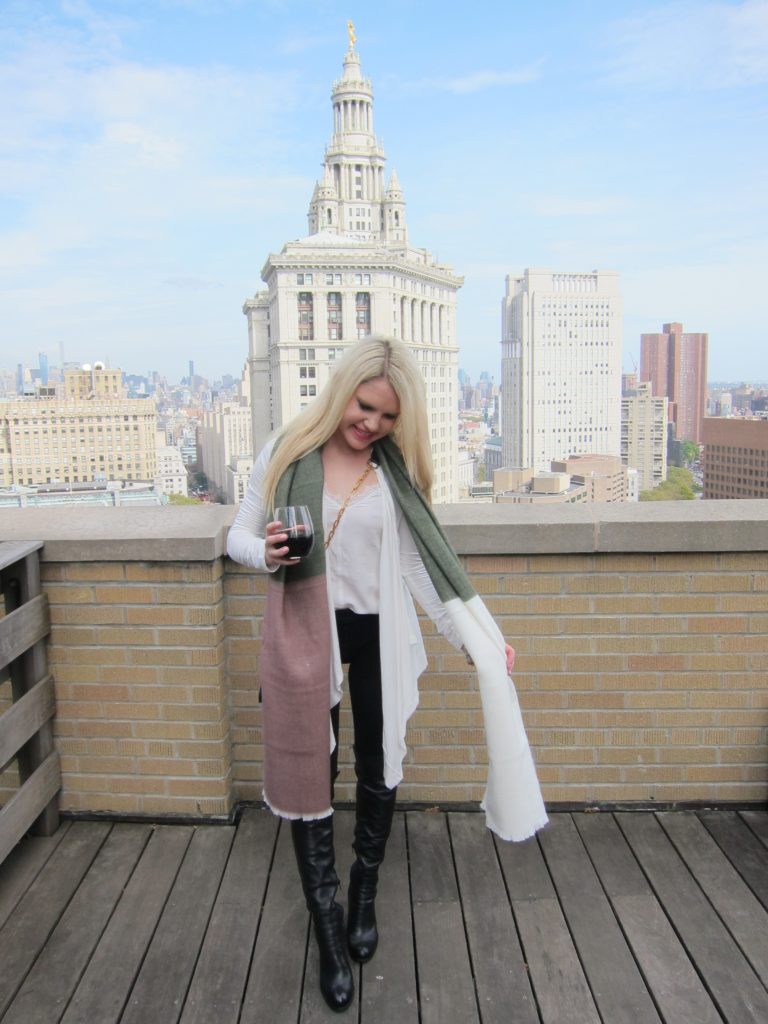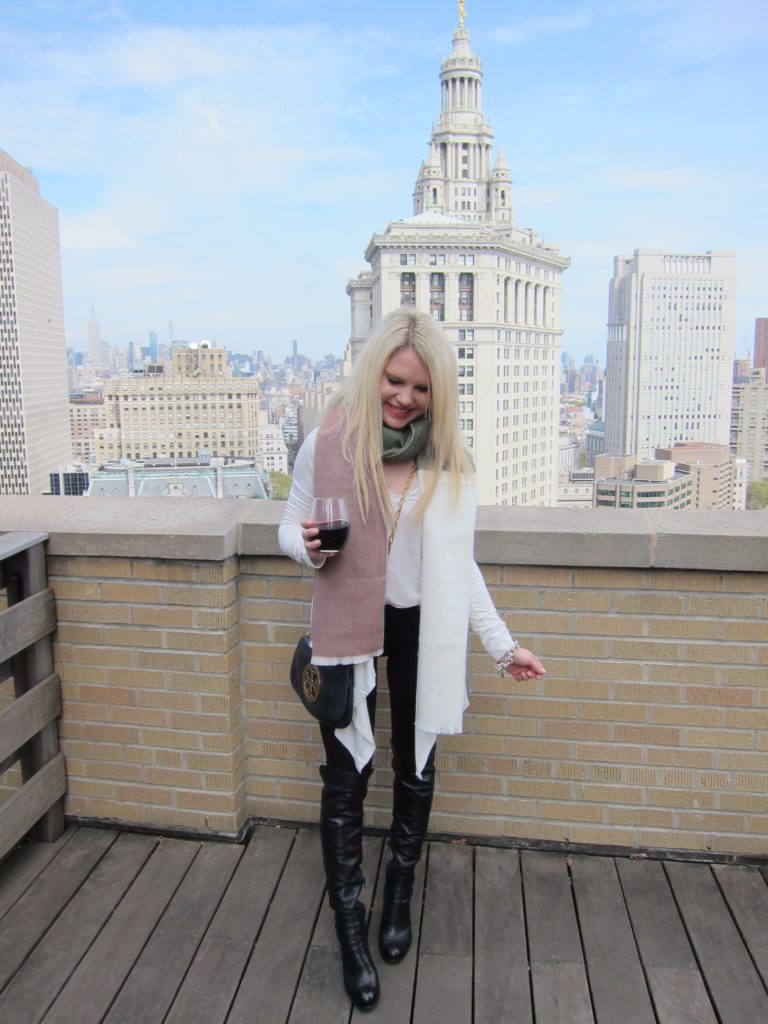 TOP Soprano | SCARF ASOS | SUNGLASSES Karen Walker | LEGGINGS Plush | BOOTS Stuart Weitzman | BAG Tory Burch | CARDIGAN ASOS
Update on the story of William
Pour a glass of wine for this one. I recently decided to start talking about my dating life, not to torture myself, but because I think some of the stories are super entertaining and maybe girls can learn something. I sure haven't learned anything, but hopefully you can or at least be entertained. In the last post I mentioned I started to notice red flags…
He was my best friend. We talked all day on the phone and texted. He would drop everything he was doing to help me if I had a problem. Even if he didn't know how to fix it, he'd drop everything to find a solution. When Ellie's nightmare began, William helped me find the one-and-only dog ophthalmologist in New York who was working that day because she needed immediate surgery.
Then one day he told me he was out with coworkers and sent me a picture. I am kind of like the FBI with phones so I downloaded the picture to my camera role. It was Thursday and the picture was taken on Monday, so that's a lie. Why would he lie about something so minor? Probably because he was doing something he didn't want me to know. I let him get away with a few white lies because we were long-distance with him in Chicago and me in New York and we were't exclusive yet.
The next lie makes all my girlfriends laugh, because it's actually kind of so stupid on his part. William was just a terrible liar, he couldn't help it. He sent me a couple pictures of what he had done to his garden at his family's house in Wisconsin. What he didn't realize is that he screenshot his camera role at the bottom of his garden pictures. I zoomed in on the pictures to see his camera role and found screenshots of Tinder dates, shirtless mirror selfies, etc. It was bad.
I no longer trusted him. And thought, we need to either break up or have the exclusive talk. At this point his family loved me, I went out to their family house every time I visited him, helped his sister with her business, hung out alone with his mom in New York. It was so confusing. Why would he have me be so in with the family and want to date other people?
OTHER WILLIAM RED FLAGS
Okay get ready to laugh guys because this is an entire curve ball to the story aside from the dishonestly and poor use of a cell phone to cover it up. The vanity. He was athletic, wanted to run like 10 miles everyday which seemed extreme to me, but normal. He then told me he wanted to get his teeth whitened. Also normal. He then told me he wanted to get his hair color corrected. Kind of strange. That turned into him telling me he was getting Botox once a month. I wasn't even getting Botox. It made me think, does he think I need it?
When I went to lunch with him in Chicago with 4 of my girlfriends I asked them to tell me if they thought William was gay. He was just very feminine in the way he spoke and was very into fashion. He'd plan out his outfits for the week and wanted to be the best dressed in the office over focusing on generating business and getting clients. We all went in the restroom and I asked them.. "so? " And one of my girlfriends was like "'100% yes! But he's fabulous, maybe you can just marry a gay guy!" But I thought, he's a grown man, why would he not have come out by now?
Around five months in at this point, I found out he was getting testosterone injections because his estrogen levels were too high. I could've told you that! There's more. He then told me he was getting HGH injections to stay looking younger. (HGH injections are very controversial because some say they can multiply your cells, so if you have a disease like cancer, it can multiply the cancer twice as fast). So he was choosing looking younger over health in my opinion, but I'm no doctor. He is the most vain person I have ever met at this point.
There's more. William told me he had a hernia and needed surgery. And he did, this was true. I kept encouraging him to make the appointment for the surgery and he finally did. Or so I thought. Then I was able to squeeze out of him that instead of getting his hernia taken care of, he scheduled surgery for plastic surgery. William scheduled a tummy tuck and a nose job. And from running 10 miles a day, he was a stick, you couldn't pinch his stomach because there was nothing to pinch. I have never had plastic surgery and it just made me think when he looks at me, what does he think I need?
The vanity was something I could've learned to live with. The lying and dishonesty I could not. I'll let you know how this lovely story ended in my final post about him. haha
SHOP THE POST